What is a satin guinea pig?
A satin guinea pig has a very shiny coat very different from other types of coat here is an example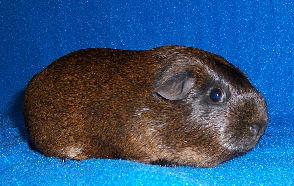 What is Osteodystropy?
This disorder is a metabolic disease associated with the disturbtion of calcium and phosphorus. This disease can affect the cavy's bone and it is quite painful for them, it can also affect their jaw and teeth making it difficult to eat his/her favorite food. Therefore, it is very important to at least once a year to check your piggy with a vet if possible a specialized guinea pig/ exotic pet vet.
Some of the possible symptoms.
The symptoms can show up at the age of 18 months later or earlies some piggies will show signs others won't. The first part of the body that gets affected by the disorder are the hind legs, the growth of the fibrous causes an unsteady gait which researchers have compared it to bunny hopping. Some of these guinea pigs may look "sad" "lazy" "depressed" and do not like to move, it is because they are in such pain that it makes it difficult to walk/move. Although, not "every" satin has this disease it is very important to do check ups to your cavy. Researchers are trying to determine if all of these species have this disease in common or not and specialist are trying to come up with a painkiller for cavies with this disorders. I will update this thread if there is more information about it.
_________________
Machito
Pulguita
Osito
Cenizo